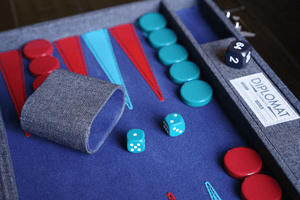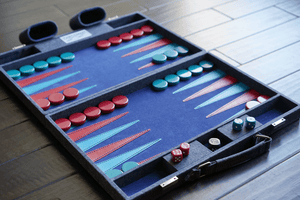 The Fleming - Backgammon Board
Sale price Price $89.95 Regular price
A fresh take on your favorite board game. 
The Fleming is a modern backgammon set featuring vibrant colors, triple-split checker slots, and a stylish, denim carrying case perfect for your next road trip.
With The Fleming, even when you lose...you still win.
FREE SHIPPING with coupon code CRUELESTGAME. U.S. only.
The Fleming measures approximately 16 x 11 x 3 inches folded. It comes complete with thirty checkers, two pairs of dice, two denim-wrapped dice cups and one doubling cube.
Why Backgammon?
Some say that the best games are those that mirror life. Backgammon fits this description because...
It's easy enough for anyone to learn.
But difficult to master.
Randomness is involved, even a novice can beat a pro.
But practice increases one's odds of success.
And, just like in life, it's often worth it to take big risks early on, although you'll want to play it a little closer to the vest towards the end.
We love backgammon because it's a great way to reconnect with old friends and make new ones.
Why Diplomat?
If you've played backgammon before you probably learned it on your parents' board from the decade of the last gammon craze...the 70s.
We recently went searching for modern, stylish boards but couldn't really find any.
So we decided to make our own. These boards are fun to play on and look great too.
And they are built to travel. Whether you're out at the bar, on the beach or just a friend's house party, people will stop and ask. Trust us.
​Proudly designed in Los Angeles, California.